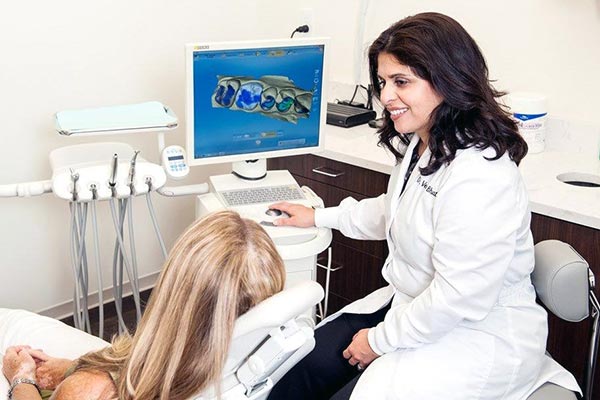 Same-Day Dentistry with
Cerec

®

Dr. Veena Bhat is a Cerec® digital dentist. Using patented Cerec® CAD-CAM technology, she is able to prepare, design and deliver a custom dental crown in a single appointment.

Cerec® employs 3D digital imaging tools, so no more messy dental impressions! One-visit crowns also mean no annoying temporaries, because there is no waiting. You leave our office with a beautiful ceramic crown that matches your natural teeth.
Now you can have a North Fulton

Same-Day Smile
---
Technology in dentistry has created the opportunity for Dr. Bhat and her dental specialist partners (oral surgeons and periodontists) to help patients get their smile back with dental implants and immediate dentures.
'Hopeless' smiles are a thing of the past! Contact North Fulton Smiles to schedule a complimentary dental consultation to explore teeth replacement options with dentures and dental implants. General and cosmetic dentist Dr. Veena Bhat will talk with you and develop a treatment plan to address problems and provide solutions in one visit. No embarrassing 'toothless' moments, and, a photo-ready smile, in one day.
Rebuild & Restore Your Dental Health
We love helping our patients rebuild their smiles with restorative dentistry! If you have teeth that have been damaged by decay or trauma, have existing dental work that is deteriorating or are missing teeth, Dr. Bhat and the North Fulton Smiles team can help you get your smile back. Common restorative procedures that we provide in our Alpharetta dental practice include:
When teeth have small areas of decay, chips or indentations, Dr. Bhat can use dental adhesive bonding techniques to make minor tooth repairs and conceal flaws.
After Dr. Bhat shapes the area for the restoration, the pliable composite resin dental filling material is applied and shaped to fit the tooth and bite. A special curing light hardens the material, and the restoration is smoothed and polished as a finishing touch.
Dental composite materials are available in many shades of "white" to blend naturally with your other teeth. They are used in cosmetic dental bonding procedures to make small changes in front teeth.
Did you know that missing teeth can become a problem if they are not replaced? Teeth surrounding the open space will shift over time, causing unnatural tooth positioning and over-eruption. This type of instability in the bite can eventually lead to periodontal disease or further tooth loss.
Replacement options for one or more missing teeth include dental implants and dental bridges. Dental implants are artificial tooth 'roots' that are placed by a dental specialist and restored by Dr. Bhat with a custom dental crown, bridge, or, may be used to secure a denture. A dental bridge is a fixed prosthetic that is attached to multiple existing teeth or dental implants, with one or more false teeth resting between the abutments to serve as a replacement.
Removable dentures are recommended when there are multiple missing teeth, or the patient has too many non-restorable teeth to make a fixed replacement feasible. Dental implants may be used to stabilize dentures and give the patient a securely-fitting appliance.
It is not uncommon for a patient that has had years of dental problems to find themselves in a difficult situation and asking the question, "where do I begin?" to fix their teeth. Dr. Bhat has helped many patients that were facing this same challenge. If you are in this situation, we encourage you to schedule a consultation visit with Dr. Bhat. She will meet with you to talk about your overall health and your goals for your smile. Following a complete examination and evaluation, Dr. Bhat will offer you recommendations and options to restore your smile to full health.
We know that 'life happens' to all of us! We never want our patients to be discouraged or embarrassed by their smile. Our team will work you with you create a plan that fits your specific needs.
Root canal procedures are sometimes necessary when tooth decay or trauma causes infection of the nerve of the tooth. Root canal treatment is performed to remove the infected nerve tissue and treat the infection, followed by sealing the tooth and root canals to prevent re-infection. Dr. Bhat works closely with a root canal specialist, an endodontist, to coordinate root canal procedures. Following a root canal, Dr. Bhat places a permanent crown restoration on the root canal tooth to protect it from fracturing.
We know that choosing an Alpharetta dentist is an important decision. Dr. Veena Bhat and the North Fulton Smiles team of dental professionals are honored to care for patients from Alpharetta, Roswell and the surrounding metro Atlanta area.
We would be delighted to assist you with your dental needs; please Contact Us so we can learn more about you!