Our Team
Our dedicated North Fulton Smiles of Alpharetta Team are the best of the best! We believe in your smile and will take great care of you!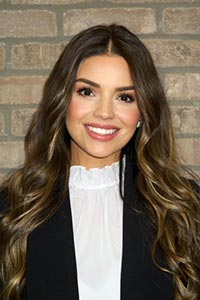 Diana, Office Manager
Welcome to our practice! I am one of the friendly faces at the front desk. I love to find ways to help people smile and that includes building confidence to share their smile! I am happy to answer your questions, plan for appointments, help resolve concerns and make your visits positive. It is important to me that each of you enjoy a feeling of ease and confidence in our office.
I have been with Dr. Bhat since Nov. 2016. I have been in the dental field for over 15 years. I appreciate how positive the environment is here. We all work extremely well together to provide the best service for you. Our staff is very warm and inviting. I love the positive energy felt by everyone and I really appreciate the attentive care our doctor and team strive to provide, as individuals and collectively, to each patient.
My husband and I have 4 children. I enjoy spending time with my family, reading and watching all The Real Housewives.
---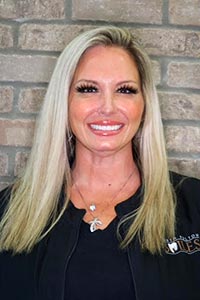 Carrie, Dental Assistant
I love being a dental assistant and helping you maintain and achieve beautiful and healthy smiles. I am new to North Fulton Smiles. I have been working as a Dental Assistant since 2006. Dr. Bhat is a fantastic dentist to work with. I enjoy working with her and the rest of my team! I look forward to meeting all of you and assisting in providing you quality and personalized dental care.
I am a GA Dawg fan!!! Go Dawgs! I enjoy spending time with my family on the lake, watching football and reading. My son is on the varsity team at his high school, you can always catch on the field on a Friday night cheering him on!
---
Dawn, Dental Assistant
Dental Assisting has been a lifelong passion for me, I started with a strong curiosity of "why am I so scared of my Dentist". In the 7th grade I choose Dental Assisting as my subject for our Essay "What I Want to be". So when the opportunity presented itself to pioneer the Dental Assisting I and II my junior year of High School I jumped in hands first. I completed my Expanded Duties Dental Assisting in 1995. I have enjoyed growing with Dentistry over the last 25 years watching as we transitioned from paper charts to digital scanning.
Other outside interests include spending time with my three children, training and playing with my four dogs and spending time with my friends and family. But most importantly, I have enjoyed living life side by side with my Husband Byron for the last 9 years.
---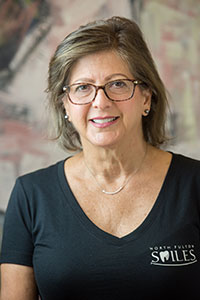 Marcella, Dental Hygienist
I am the part-time hygienist and have been working with Dr. Bhat for 2.5 years. I graduated from the University of Pittsburgh and have also done post graduate courses at Carnegie Mellon University. I love the field of dentistry and have been treating patients for over 40 years. The majority of my dental experience has been in general dentistry, periodontics, and pedodontics. I want to help patients achieve their best dental health and to have a beautiful smile.
In my spare time I enjoy reading, traveling, spending time with friends and family. I love watching the Pittsburg Steelers!
---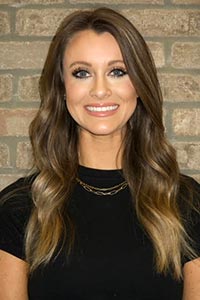 Morgan, Dental Hygienist
I am the full-time Dental Hygienist at North Fulton Smiles. I graduated from Augusta University with my Bachelor of Science in Dental Hygiene in 2017. I have loved the dental field since an early age and have enjoyed the opportunity dental hygiene has given me to educate and connect with patients. I am dedicated to giving my patients the best care and continuously learning and growing. What I enjoy most about my job is the opportunity to empower patients with the knowledge and education to take control of their health.
I am a Georgia native who grew up in Cherokee County. In my personal time I enjoy walking downtown with my dog, Bentley. I also love kayaking, hiking, offshore fishing and spending time with family and friends.
---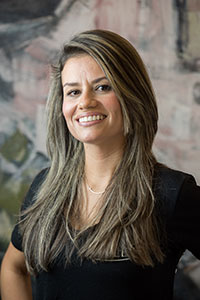 Alejandra, Dental Hygienist
I have been with North Fulton Smiles for six years, and have worked in the field of dentistry for a total of fourteen years. I received my Dental Hygiene degree in 2012, upon graduating from Georgia State University.
What I enjoy most about dentistry is helping patients improve and maintain their oral health, and teaching them about its positive effect on their health, overall. Dr. Bhat is always up to date with the latest technology, which ensures our patients receive the best care. I'm grateful, as part of her team, to have access to the most recent information on dental care.
I'm originally from Bogotá, Colombia, and have lived in the US for 18 years. In my spare time I enjoy traveling, and spending time with my lovely husband and daughter.