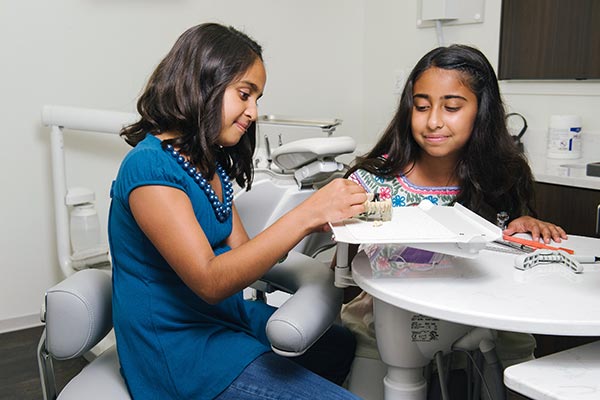 Family Dentistry
We're in the neighborhood and would love to meet your family!
At North Fulton Smiles of Alpharetta, Dr. Veena Bhat and team want your family to feel like part of our family. We consider your experience with us as important as the care we provide.
We provide complete dental care for children and adults, from routine dental cleanings and digital x-rays to more complex services such as crowns and dentures.
Sometimes patients are nervous about visiting the dentist (this can occur at any age); we will pace our interaction with your family members based on their individual needs. Whether it's just a ride in the chair for a child's first visit, or a celebration hug after a grandparent gets their smile back, we are always happy to share the joys of dentistry with you and your loved ones!
Preventive Care
Regular visits for exams and dental cleanings are the most cost-effective measure you can take when it comes to your dental health. At these visits, we will check your teeth for any signs of decay or wear, and examine the gums and soft tissue to look for any concerns with bleeding gums, infection or unusual bumps or sores. We may recommend digital dental x-rays to look between the teeth and under the gums to monitor your child's dental development or look for any indications of oral bone loss in adults.
Oral Cancer is on the rise… as part of adult dental hygiene visits, Dr. Bhat will thoroughly examine the oral soft tissues to look for any suspicious areas that should be tested further to rule out oral cancer.
Catching problems early helps you save on time and money and helps you avoid dental emergencies. We can help you stay on track with your dental checkups with our electronic reminder system; a friendly email or text is a great way to give us a quick call to schedule or confirm your appointment, be sure to ask us about signing up!

Financing Available
With low-interest and long term payment plans, CareCredit® helps make dentistry affordable. Visit carecredit.com to learn more, or just give us a call!
New Patients Welcome
We are always appreciative of the kind referrals of friends and family members to our practice. We offer flexible and convenient appointment times and accept most major dental insurance plans.
Our family friendly dental practice is conveniently located in the Silos at North Farm Marketplace, Crabapple Corners in Alpharetta. Contact us to schedule an appointment with family dentist, Dr. Veena Bhat.