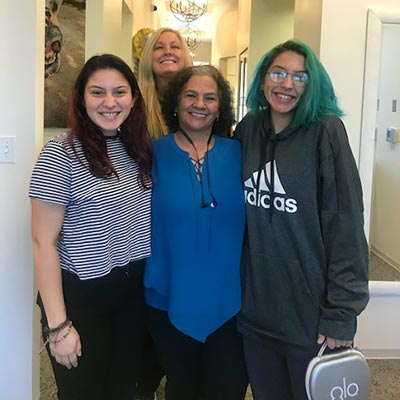 "My aunt's dream was to do whitening for her granddaughters. They were up to 7 shades lighter and couldn't stop smiling."
"Dr. Veena Bhat and her team are first class! I actually enjoy going to the dentist. They have helped my dental health and now they are improving my smile with Invisalign. I have had them for 2 months and am already noticing a nice difference. Thanks North Fulton Smiles Team!"

Anonymous
"Alejandro has been exceptional! The best quality about her is her knowledge base and how she can give specific examples to help answer any of your questions. She never seems rushed and is always very thorough. Thanks!"

Jonathan K.
"My trips to North Fulton Smiles are always good. They have a friendly atmosphere, and have my back, or teeth. They are way-cool high tech and provide great service."

Anonymous
"So warm and welcoming! My mother (Alma) was a bit nervous coming in for the first time. She is new to the area and, can we say, a bit overdue… every single person in the office at North Fulton Smiles was very warm and caring. Dr. Bhat was so genuine and friendly, she spoke to us from the moment we came in like old friends, didn't just hide behind 'the door' til we were prepped to see her… and then disappear after her part was over… I will recommend everyone them to everyone I know…"

Alma L.
"Had a great experience! Alejandra did really great work!"

Matt G.
"Great dentist. Very friendly office staff."

Tom D.
"I give them 5 stars!"

Nicole S.
"It's always been excellent. Dr. Veena Bhat, the staff, front desk each and everyone who you meet in is always kind and courteous. Very patient and has ears to all your ongoing troubles. Easy on appointment so is cancelling or rescheduling. I am glad I found them and my first appointment was the very next day after they heard what I was going through. All women clinic. I would refer them to anyone without a second thought. I even bought my 5 year old once since they mentioned they even check on kids. It was Alejandria who treated him and it was breeze. A child who would generally hate to meet a dentist, got his tooth cleaned and x-Ray done without a small trouble and I credit all that to Alejandria's tactics - gentle and loving :)"

Shiragshri
"North Fulton Smiles I love the staff. Dr Bhat dental assistant are "the bomb" I recommend everyone to go to this office."

Money C.
"I give them 5 stars!"

Dawn M.
"The team at North Fulton Smiles (Roswell, GA) are not just my one stop for dental care, they are family. So dependable and reliable that I call them 1st before talking to the benefit dept. at HR to decide which plan to take. You see same set of professional yet friendly faces year after year, which shows 'staff retention', an attribute of a successful and honest practice. This practice has invested time and money to leverage technology while transforming the way dental hygiene shall be done. I can go on forever, but this is one practice I can recommend (and have recommended) to my family and friends with firm belief that new patients will get the best - best value of their money/insurance plans, best professional services and above all - the personal attention that makes you come back again and again. Special shout out to my hygienist - Alejandra who goes beyond her line of duty to keep me on straight line and keep me healthy :). Dr Bhatt, Diane, Dawn and everyone at this practice are just exceptional… and they are family!!"

Am S.
"Very pleasant cleaning. Hygienist was very gentle on my teeth/gums. Staff at front desk was very nice and courteous. Absolutely no complaints, keep doing what you are doing. Love it."

Robert G.
Google
"In the past 2 months I've had old two crowns and some fillings replaced by North Fulton Smiles, and I must say the results are remarkable. Dr. Bhat is a true professional and she and the staff are very friendly and attentive. 'Smiles' is an appropriate name for this practice."

Tom W.
"Terrific experience, as always!"

George L.
"I am more than satisfied with the level of care I receive from everyone at North Fulton Smiles. Dr. Bhat, as well as all the staff members, are very friendly and helpful! They always take extra time to answer any questions I have and do whatever it takes to make me feel comfortable! I just love you guys!! :)"

Cindy K.
"We often here that people hate going to the dentist. I disagree and you will too if you become a patient of Dr Bhat's. She's amazing and so is her team! Thank you for always making my visit a very pleasant experience!"

Dawn S.
"This is the warmest, most comfortable, most inviting dentist office I have ever worked with. In fact, it doesn't FEEL or even look like any dentist's office I have ever been in! If you have been thinking about changing dentists, or are new to town, even if the office location is a bit of a drive from where you live, you should give them a try - they are WORTH IT!"

Donna G.
"Happy Smiles,
We are very happy with the service we receive. We live a distance from the office and if we were not happy we would find a dentist closer to home. I have referred several friends and everyone is happy."

Joann M.
"The staff at North Fulton Smiles is always outstanding. Everyone is friendly, genuine, professional and timely. Always. Thanks for being great at what you all do!"

Janet F.
"North Fulton Smiles is a fantastic company and dental practice. Everyone is so nice and caring and really attentive to you and make sure you are very well taken care of."

Faye W.
"Dr. Bhat and staff are top notch. Not only do they know their stuff but it shows that they really care about your dental health. There really is a difference in dental practices and this one gets a 10."

Pamela L.
"The doctors and staff that work at North Fulton Smiles are the best I have seen. They go above and beyond for all of their patients and really truly care about us. It is nice to know I have made a few friends in the office over the years."

Tanya P.